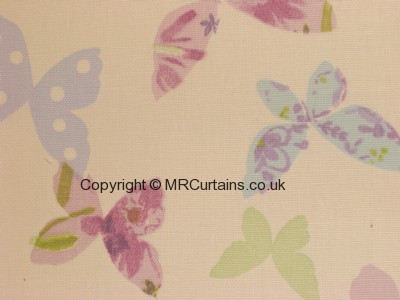 Photos should be used as a guide only. Actual colours can vary from the screen representation of the colour. Please ensure that any variations in colour are acceptable as our custom made products cannot be returned. Please order a sample to be sure of the actual colour and design.
Products in the Butterfly range:
Roman Blind
Butterfly by Prestigious Textiles
Viewing Colour: Lavender
Colours in design Butterfly
If you would like assistance regarding fabric quantities, measuring or general advice please call us on 0117 2307272.
Our roman blinds are hand sewn and weighted by seamstresses with over 20 years experience. All our roman blinds are made in-house to the highest level of workmanship with personal care and attention paid to every order. Our pinch pleat curtains are headed with Buckram and not tape to give it that more crisp professional look. Every curtain fabric that you see on our site is available to be created into roman blinds. We use high quality linings and offer a selection of options to ensure your roman blinds are made for you.
We make our Roman Blinds in a way called stab stitching meaning you do not see any stitching going horizontally across your blind. Also as a standard your roman blind will be made with thermal blackout lining. This lining is placed inbetween the face fabric and our quality best lining. Also as a standard your Roman Blind will come with a quality Premier Closed Cassette Head Rail system. Our blinds are made by our in house seamstress.
Stab Stich (No stitch marks across Roman Blind)
Thermal Blackout Lining (This lining is placed inbetween the face fabric and our quality best lining)
Premier Closed Cassette Head Rail system
Made by our in house seamstress
PLEASE NOTE! Before providing your measurements please read our measuring guide. If sizes are given as recess sizes we will make a standard deduction of 20mm from the width to allow for fitting. View Information and installation details (opens new window).
*Stock Availability: Available* (what does this mean?).
Width: 137 cm
Pattern Repeat: 64 cm
This fabric is suitable for curtains.
Material Composition: 100% Cotton
Washing: Dry Clean Recommended
Colours in Butterfly roman blinds range:
Selected designs in Lavender
© MR Curtains.co.uk - VAT registration no: 433864439 | Company No: 2917953
All fabric designs and associated photographs used on mrcurtains.co.uk are the copyright of the respective manufacturers.

Site powered by Curtasoft